This is a fully 3D printed keyboard completely custom designed from the ground up by Fabio Pugliese Ornellas.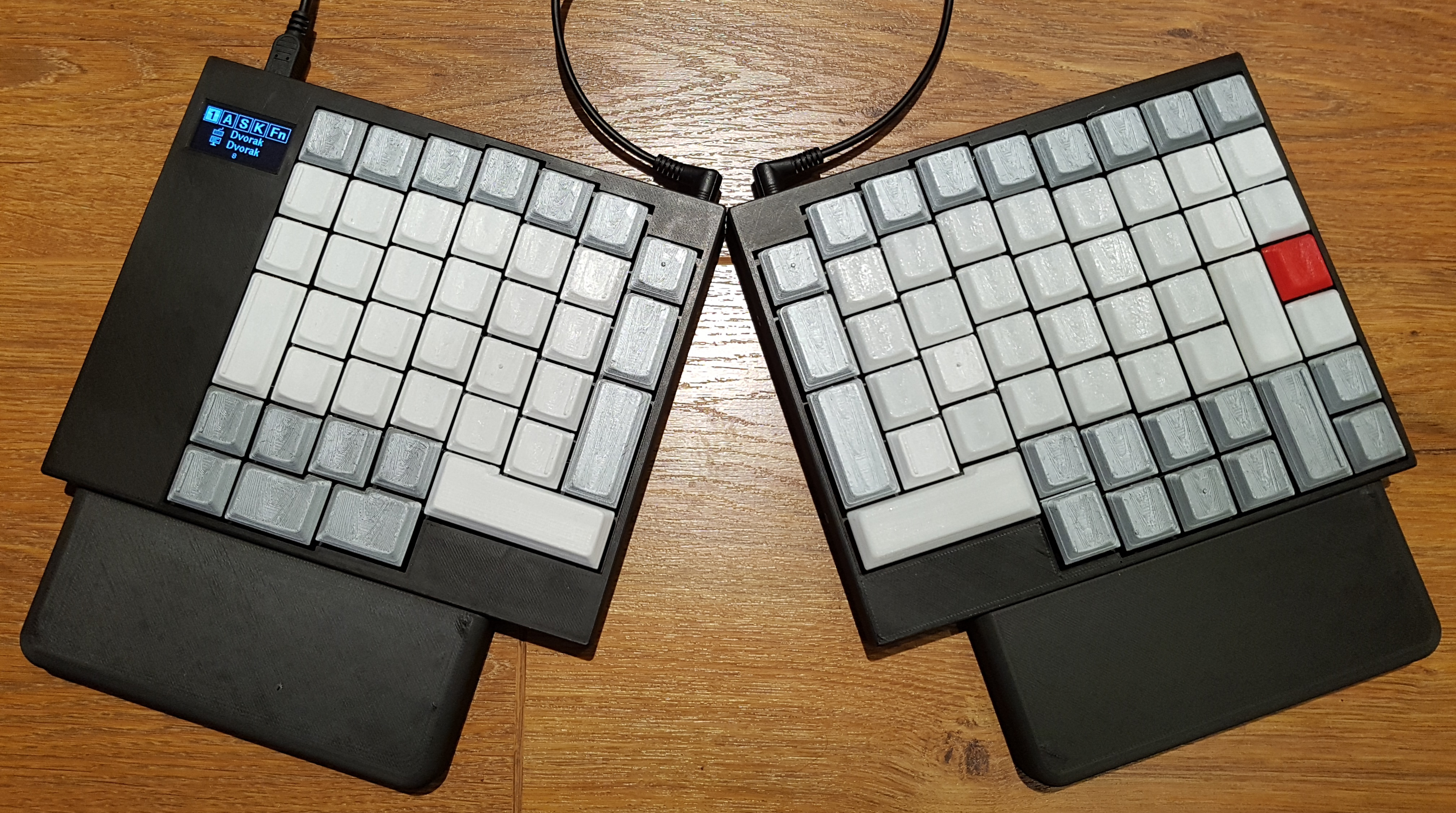 Learn more
Features
Proudly 100% Open Source :-D
Design

Unique ergonomic design inspired by TypeMatrix and Ergodox.
All 3D printable plastic parts.
13 diffirent custom shaped keycaps.
Custom designed key stabilizers (for space, enter etc).

Electronics

Cherry MX switches.
1.3" OLED screen for full-featured status report.

Num Lock, Caps Lock, and Scroll Lock.
Hardware Keypad.
Hardware Fn key.
Computer and Keyboard layout configuration (QWERTY, Dvorak).
Screensaver to avoid OLED burn out.
Boot up splash screen.
USB communication status.
Key press counter.

Based on Teensy 2.0++.

Firmware

Based on the LUFA USB library.
u8glib to drive the display.
USB Remote wake up support.
Independent keyboard and computer layout mapped by hardware:

Computer QWERTY, keyboard QWERTY.
Computer QWERTY, keyboard Dvorak.
Computer Dvorak, keyboard Dvorak.
Computer Dvorak, keyboard QWERTY.
For Dvorak keyboard layouts, Fn will temporarily switch back to QWERTY (easy access to usual keyboard shortcuts).
Hardware keypad.

Easy mapping of key functions:

Regular key press.

Support for HID Keyboard/Keypad Page codes (eg: letters, numbers).
Support for HID Generic Desktop Page codes (eg: browser, shortcuts etc)

Sequence of key presses (eg: Alt+Tab).